Turmeric has been used in Ayurvedic medicine for millennia, and may also be helpful to use directly on your skin as a face mask.
There's nothing new about turmeric. The golden spice has been used in Ayurvedic medicine for thousands of years, but why has it become such a buzz ingredient, especially in skincare, and what can it do for you?
How does it work?
Turmeric's key ingredient is the high concentration of curcumin, which also gives it that vibrant shade of yellow; to simply enjoy it in your diet add a little of its peppery, slightly bitter flavour to soups, stews, curries or smoothies.
When it comes to beauty, however, turmeric can be used for a variety of issues such as blackheads, blemishes, hyperpigmentation, dryness and wrinkles. The best way to try it is in a home-made turmeric face mask, adjusting the other ingredients according to the effect you want, and then applying it once or twice per week.
TIP: Beware turmeric's legendary staining, especially on pale skin. Assess your risk by testing a dab on your inner arm. After one minute, wipe off a small amount. If there's no colour change, leave on the rest for four minutes, then wipe off another swipe. If there's still no stain, leave the remainder for another five minutes before wiping off.
Turmeric anti-inflammatory
Stir one teaspoon of turmeric into one tablespoon of aloe vera gel or coconut oil, then dab it onto the irritated area.
A hydrating treatment mask
Ingredients
3 tbsp milk
1 tbsp lemon juice
¼ tbsp ground turmeric
Method
Mix the ingredients together to form a thin paste
Apply to skin, avoiding lips and eyes
Leave on for 10-20 minutes
Rinse off with lukewarm water, pat dry
Finish with moisturiser
TIP:
Remove minor skin staining by washing your face with milk. Otherwise you'll have to wait until the stained skin cells shed naturally.
Turmeric antioxidant
As a powerful antioxidant, curcumin neutralises free radicals before they harm healthy cells. It works in the same way as lemon juice reduces browning (another form of oxidation) in cut apples.
In the skin, this means it helps reduce the breakdown of collagen and elastin and slows signs of visible ageing such as lines and wrinkles.
A mask that soothes and tautens the skin
Ingredients
1½ tsp ground turmeric
1 tsp honey
1 tbsp coconut milk
Method
Mix to a thin paste, adding extra coconut milk if necessary
Apply to clean skin, avoiding lips and eyes
Leave on for 10-20 minutes
Rinse off with lukewarm water, pat dry
Finish with moisturiser
TIP:
Add a small amount of flour if your mask seems too thin and runny. For dry skin, use ground oatmeal instead.
Turmeric antibacterial
By helping to manage micro-organisms on the skin, turmeric could help in the management of breakouts. The easiest way to use it is simply to mix it with a little water (try half a teaspoon of ground turmeric to three teaspoons of water).
Antibacterial face mask
Ingredients
2 tbsp flour
1 tsp ground turmeric
3 tbsp yoghurt
A few drops of honey
Method
Mix the ingredients to a paste
Apply thinly to your skin, avoiding lips and eye area
Leave on for 10-20 minutes
Rinse off with lukewarm water, pat dry
Finish with moisturiser
TIP: Stick to 10-minute treatments if your skin is pale, otherwise increase treatment time gradually to 15-20 minutes.
Never leave on your turmeric treatment overnight, as it is likely to cause staining – including to your bedlinen. It isn't used as a yellow dye for nothing!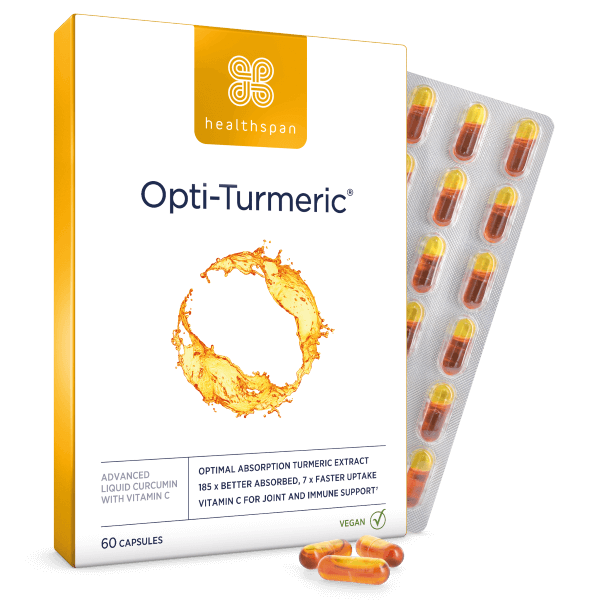 Opti-Turmeric
7 times faster-acting than standard turmeric
Advanced liquid curcumin capsules
Faster-acting and better absorbed than standard turmeric
500mg turmeric per capsule
Shop now