Healthspan Elite Partnership: All Blacks

In September 2020, New Zealand Rugby (NZR) announced that Healthspan Elite would be the All Blacks' first official sports nutrition, sports protein and vitamins and supplements partner for the following four years.
Healthspan Elite has been supplementing the All Blacks' health and performance since 2015, and the two long-term partners have now chosen to make their relationship official.
"The high daily physical demands experienced by elite-level rugby players such as the All Blacks often makes it difficult for players to eat enough or meet their individual needs for specific nutrients," said All Blacks Nutritionist Kat Darry. "To have the support of specific supplements from Healthspan Elite, which can be utilised when a player's needs are greater than what they can meet from our food-first approach, is important."
Chris Fisher, Healthspan Sales & Marketing Director, had this to add: "For several years, we've been supporting the All Blacks with our Elite supplements to aid their health and performance. Healthspan is honoured to have been chosen as the All Blacks' first ever supplement partner. As leaders in our respective fields, the potential for us to collaborate on ground-breaking initiatives that bring this partnership to life is something very exciting."
Which Healthspan Elite supplements?
The All Blacks will benefit from the full Healthspan Elite range. This will include daily health essential supplements such as Omega 3, A-Z Multivitamin, and our new Pro50 Biotic, plus immune support with Vitamin D and our Activ Immunity + drink. On game day the players will be fuelling their performance with Caffeine Gum and recovering using our extensive protein range, including our advanced Vegan Protein for the players that follow a plant-based diet.
Watch: why the All Blacks use Healthspan Elite supplements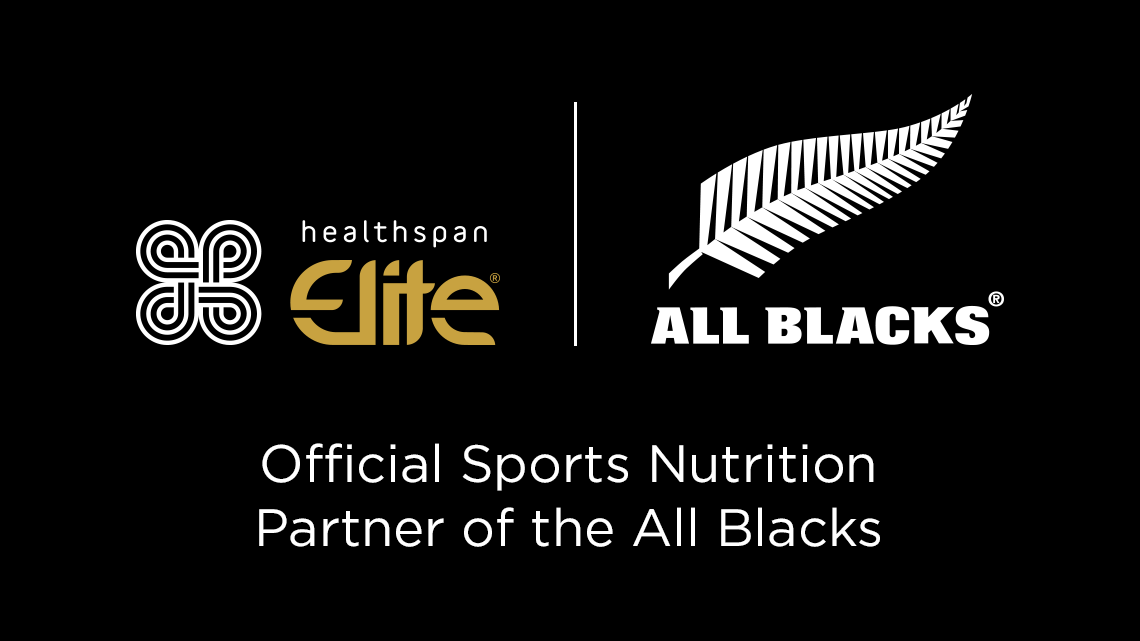 History of the All Blacks
Having won 77 per cent of their 580 matches between 1903 and 2019, New Zealand's All Blacks are the most successful international men's rugby team of all time.
The All Blacks have won the Rugby World Cup three times (1987, 2011 and 2015), have won 10 of 16 Investec Rugby Championship trophies and have held the Bledisloe Cup (played between New Zealand and Australia) for 17 years.
The first New Zealand team was selected for a tour to New South Wales in Australia in 1884. They went on to record eight wins in eight matches in Australia and members of this team have been recognised as the very first All Blacks.
Between 1888 and 1889 The Natives played 107 matches in a marathon tour of New Zealand, Australia and the UK. Although they were not All Blacks, they were the first team to wear an all-black jersey and did a great deal to raise the profile of New Zealand rugby.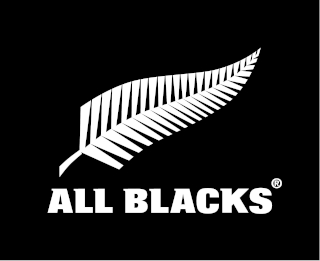 The silver fern
The silver fern Cyathea dealbata is a species of fern tree found only in NZ. It has been worn as an emblem by New Zealand's national rugby teams since 1888 and first appeared on the All Blacks' jerseys during their 1905 tour. The All Blacks silver fern logo changed many times until 1986, when the current logo was created and trademarked.
The silver fern is so called because the undersides of the fronds are silver or white – these reflect the moonlight, making them useful for navigating the NZ bush at night. To Māori, the fern is known for strength and resilience, while to Pākehā (New Zealanders of non-Māori descent) it symbolises their sense of attachment to their homeland.
Following the establishment of New Zealand Rugby (NZR) in 1892, the first NZR-sanctioned New Zealand team was selected for an 11-match tour to Australia. This was the first team to wear the famous black jersey and the team lost just once, to New South Wales in Sydney.
It wasn't until 1903 that the All Blacks played their first official test match, against Australia in Sydney. The All Blacks scored three tries to one in a 22-3 win. Two years later in 1905, captain Dave Gallaher led the team on an epic tour of the UK, France and North America. The team have since become known as 'The Originals' and the tour established New Zealand's world-class rugby reputation.
In 1924, the All Blacks became known as 'The Invincibles' after they were unbeaten on their tour of Britain, Ireland and France.
In 1932, the first Bledisloe Cup match (a competition between Australia and New Zealand) was played. The All Blacks won this first match and, since 2003, New Zealand have retained the Bledisloe Cup.
New Zealand hosted and won the inaugural Rugby World Cup in 1987, beating France 29-9 in the final. They went on to win the 2011 and 2015 World Cups, becoming the first nation to retain the World Championship title and the first to win the World Cup three times.
In 2016 the All Blacks broke the record for the longest winning streak – 18 Test victories achieved between 2015 and 2016.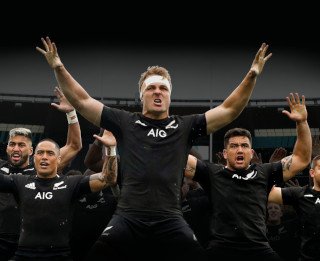 The Haka
Most people associate haka (pronounced haa-kah) with the All Blacks, but there are many variations of this Māori ceremonial dance or challenge. In Māori culture, haka was traditionally performed to express a feeling or strong emotion. This included when groups opposed each other in times of battle, but haka was also performed during times of peace, such as tribal celebrations.
Ka mate, Ka mate – the original All Black haka – was composed by Māori Rangatira (chief) Te Rauparaha of te Ngāti Toa Rangatira tribe. This haka has been used by the All Blacks since 1905, but in 2005 a new haka, Kapa o Pango, was introduced, written especially for the All Blacks by Derek Lardelli.
Learn the words to the All Blacks haka
Ka mate! Ka mate!
Ka ora! Ka ora!
Ka mate! Ka mate!
Ka ora! Ka ora!
Tēnei te tangata pūhuru huru
Nāna nei i tiki mai
Whakawhiti te rā
Ā upane!
Ka upane!
Ā upane!
Ka upane! Whiti te ra!
Hi!
I may die! I may die!
I may live! I may live!
I may die! I may die!
I may live! I may live!
This is the hairy man
Who fetched the sun
And caused it to shine again
One upward step!
Another upward step!
An upward step!
Another… the sun shines!