Nutritionist Rob Hobson has used buckwheat crêpes to make this delicious summer berry breakfast or dessert. Buckwheat is a grain-like seed traditionally eaten in Asia and Eastern Europe, and is rich in iron, zinc and magnesium.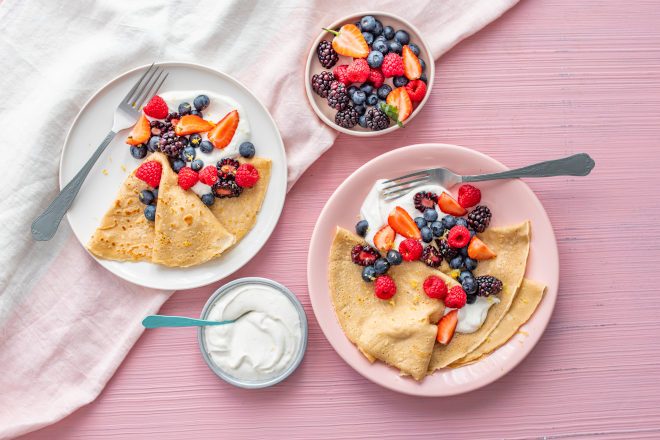 Serves 4
Ingredients
160g buckwheat flour
65g plain flour
2 eggs
600ml milk
1/2 teaspoon salt
30g unsalted butter, melted
200g Greek yoghurt
1 tbsp agave
1 tsp vanilla bean paste
Zest 1 lemon
75g strawberries, hulled and sliced
75g blueberries
75g raspberries
75g blackberries, halved
A few mint leaves, to decorate
Method
Whisk together the flours, eggs, milk and salt. Put the batter in the fridge for at least 2 hours to allow it to rest.
In a small bowl mix together the Greek yoghurt, agave, vanilla and the zest of the lemon. Set aside in the fridge until needed.
When ready to serve, heat a pan over a medium heat. With a paper towel, rub a little butter around the pan, then add a ladleful of the batter. Let the galette brown on one side, then flip it over. Remove the galette from the pan and set it aside. Repeat until all the batter is used up.
To serve, place 2 pancakes on a plate and top with 1/4 of the yoghurt mixture and some of the berries. Finally, add a few mint leaves.