Freekeh is wheat that is harvested when it's young and green, then roasted to produce an earthy taste. Popular in North African and Mediterranean cuisines, it's rich in fibre, B vitamins and manganese.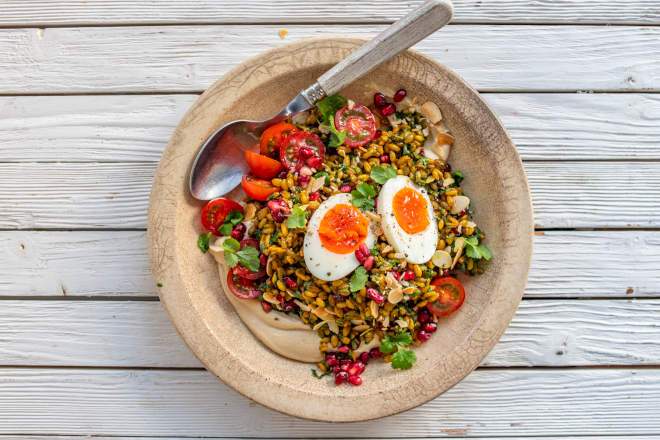 Serves 4
Ingredients
1 tablespoon olive oil
225g freekeh
2 cloves garlic, crushed
1/2 teaspoon ground cumin
1/2 teaspoon ground coriander
1/4 teaspoon turmeric
750ml vegetable stock
50g fresh coriander, chopped – reserve a few leaves for decoration
50g parsley, chopped
75g almond flakes, toasted, plus 40g for serving
1 pomegranate, seeds removed
4 eggs
To serve:
1 x 200g tub hummus
200g cherry tomatoes, halved
Method
To cook the freekeh, warm 1 tablespoon olive oil in a heavy-bottomed saucepan, then add the freekeh and sauté for 2 minutes. Add the garlic, cumin, coriander and turmeric, and cook for a further minute. Add the stock and bring the mixture to the boil, then reduce the heat, cover and cook, stirring occasionally, until the freekeh is tender to the bite – about 20 to 25 minutes. Drain off any excess liquid, cover and set aside for 5 minutes. Season with salt and pepper to taste then stir through the chopped coriander, parsley, almond flakes and pomegranate seeds.
Bring a pot of water to a steady simmer and add the eggs and cook for 6 - 7 minutes, depending on if you like your yolks jammy or slightly more cooked. Remove eggs from the pan with a slotted spoon and place into a bowl of iced water to stop them overcooking. When cool enough to handle, peel the shells from the eggs and slice them in half.
To serve, divide the hummus between bowls and pile the freekeh 'tabbouleh' on top. Add the halved tomatoes and the eggs and the remaining toasted almond flakes. Sprinkle the coriander leaves over the bowls and serve immediately.